(Bloomberg) -- Go Airlines India Ltd., which filed for bankruptcy protection in May, hopes to resume operations by the end of the month and restore 94% of its daily flights, a person familiar with the matter said.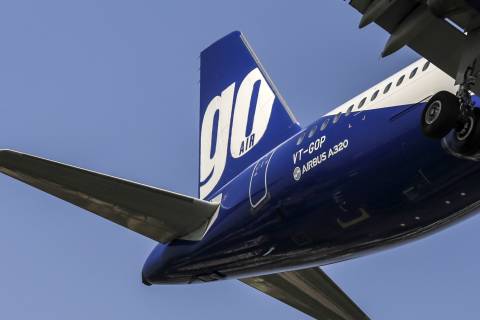 In a revival plan submitted to the aviation regulator, the airline said it can operate 157 daily flights domestically, compared with the 167 it flew previously, the person said, asking not to be identified because the matter is private. The carrier abruptly halted flights last month, blaming problems with the Pratt & Whitney engines that power its fleet.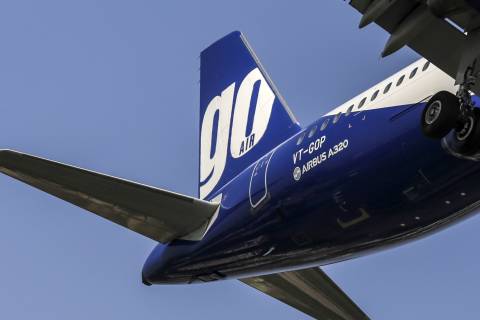 Go hopes the regulator may approve its proposal this week, allowing it to resume flights in the next two weeks, the person said. The airline previously said it aimed to restart flights in May, but that proved over-optimistic and never materialized.
The carrier is also waiting for creditors to approve additional funding, the person said, declining to specify the amount of investment needed.
A spokesperson for Go didn't respond to a request for comment. A representative for the civil aviation ministry didn't respond to a request for comment.
The airline, which rebranded as Go First about two years ago, controls 6.4% of the Indian aviation market — one of the fastest-growing in the world. It plans to deploy 22 aircraft and reserve four jets for future needs, the person said. After losing about 175 pilots during the recent turbulent times, Go still has more than 500 pilots — enough to fly some 30 planes — and doesn't need to immediately hire more, the person said.
Go has said it struggled for years with "premature failures and shutdowns" of Pratt GTF engines that idled half of its Airbus SE A320neo fleet. It's seeking $1.1 billion in compensation from the engine maker in US arbitration and wants outstanding orders for 144 engines to be fulfilled.
Pratt, for its part, in May said that it continues to prioritize delivery schedules for customers and is complying with an arbitration court's order to supply parts to the airline.
India's top airline, IndiGo, also has more than 35 aircraft grounded due to a shortage of spare engines, Chief Executive Officer Pieter Elbers said in May. Deutsche Lufthansa AG said a third of its A220 fleet in Zurich is idled due to engine troubles.
Go also plans to drop services to less profitable destinations like Varansi, Patna, Lucknow and Ranchi, choosing instead to focus on high-demand areas including Srinagar, Delhi and Leh where fares have surged during its absence, the person said.
More stories like this are available on bloomberg.com
©2023 Bloomberg L.P.
Author: Ragini Saxena