Joanne Kelly is one of the new characters introduced in Showtime's hit crime drama 'City on a Hill' Season 3. The 'Severance' star plays Letitia Dryden, the gorgeous wife of Sinclair Dryden (Corbin Bernsen). The Drydens are the latest entrants to the show and come off as one of the wealthiest families in Boston. Beneath all the lavish living and the posh exterior, the duo is shown to be pretty shady.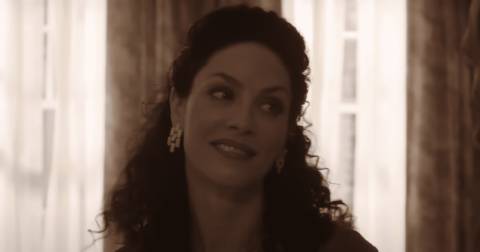 The first instance comes off when Sinclair drugs his step-daughter Victoria's (Caroline Willman) friend Dominique during a family dinner and later has sex with her after the teen passes out. Shockingly, Letitia seems to be fully aware of her husband's activities and even encourages them. For the viewers, and for Jackie Rohr (Kevin Bacon) who eventually lands a gig with the family as their head of security, it's the first red flag.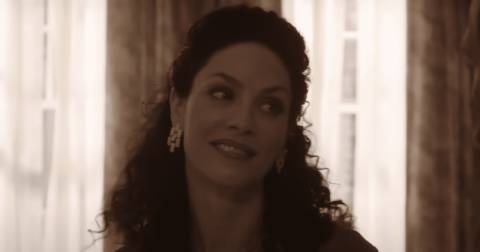 The second is when she openly flirts with Rohr in their very first encounter. While the latter gets the hint that Letitia is indeed brazen, he still tries to be a lot more cordial in his interactions. However, it's not hard to see where this might lead. With his wife Jenny (Jill Hennessey) already aware of Letitia's page 3 past where she was involved with celebrities and sportspersons, she will have every reason to be worried given their rocky relationship over the last couple of seasons.
Rohr's infidelity issues were in the forefront in Season 1 and while he's shown to have been making conscious efforts to change as a person, the latest storyline just might land him in trouble. With Letitia shown to be manipulative and the Drydens looking like they're up to no good, Rohr's new gig isn't exactly smooth sailing. With seven episodes left in the series, it remains to be seen how deep the Drydens' rabbit hole of criminal activity goes and with the trailers already hinting that Rohr will regret his decision of signing up to work for his old mentor, only time will tell if he can make it out with his crumbling integrity intact.
'City on a Hill' Season 3 airs Sundays at 10 pm ET on Showtime.